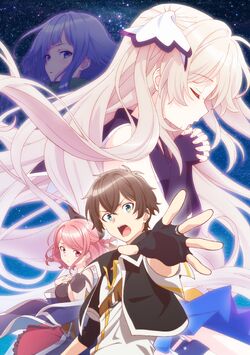 Seven Senses of the Re'Union (七星のスバル, Shichisei no Subaru, lit. "Subaru of the Seven Stars"?) is a Japanese animated television series adaptation by Lerche premiered on July 6, 2018 on TBS. The animation is directed by Yoshito Nishōji, with Takao Yoshioka in charge of series composition and Yumiko Yamamoto as the character designer. The opening theme is "360° Hoshi no Orchestra" (360°星のオーケストラ 360° Star Orchestra) by petit milady, and the ending theme is "Starlight" by Erii Yamazaki.
In the globally popular MMORPG "Union", there was once a top group of players named Subaru, made of six elementary school friends. However, once one of their members passes away inside the game, Union ended service. Six years later, a new game called "Re'Union" is launched, with similar mechanics, and when Haruto, one of Subaru's original members, meets Asahi, his partner who died six years before, the members of Subaru gather once again to uncover the mystery behind it.
Episode Covers
Edit
Episode List
Edit
Characters
Edit
Kengo Takanashi as Haruto Amō
Nichika Omori as Asahi Kuga
Akari Kitō as Satsuki Usui
Kaito Ishikawa as Takanori Mikado
Takuma Terashima as Clive Vivali
Yumiri Hanamori as Nozomi Kusaka
Hikaru Akao as Haruna Amō
Directed by Yoshihito Nishōji
Original creator: Noritake Tao
Original Character Design: booota
Animations by Lerche
Character designs by Yumiko Yamamoto
Chief animation director: Haruna Nagata
Sound director: Satoshi Motoyama
The show lists it at July 5, 2018 at 25:58; which is at 1:58 A.M. on July 6, 2018.